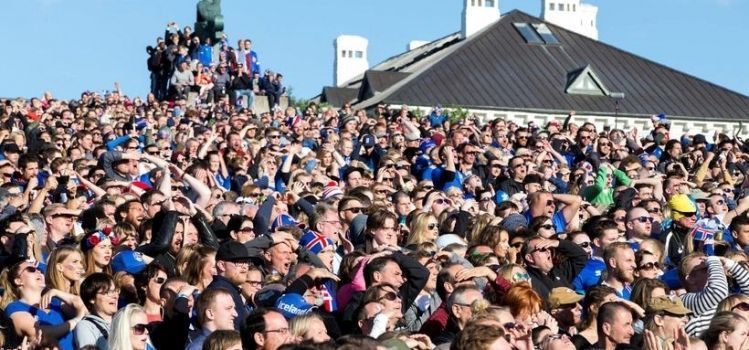 Velkomnir heim!
A big velkomnir heim to the Icelandic football team, who touched down in Keflavik last night.
Despite an excellent game with 2 goals in the second half, Iceland failed to defeat football giants France in the UEFA's Euro 2016 quarter-finals on Sunday. But the boys in blue did manage to become one of the championship's most loved teams, at first seeming the underdog when they played Portugal and going on to victory in matches against Austria and England. It's an amazing performance to get to the final 8 in their first year of qualifying for the Euro finals, so Icelanders everywhere are very proud of them!
Last night the team touched down in Keflavik to huge crowds all along the main road from Keflavik to Reykjavik. Here's the crowd who saw the team off at the beginning of the Euros- now look below for the mammoth turn-out at Arnarholl in Reykjavik! They team have become heroes, and all of the All Iceland team is proud that our homeland has united behind such a fantastic team- next stop, World Cup 2018...
Meanwhile the Icelandic women's team is already the top of their group for the UEFA Women's EURO finals, due to take place in the Netherlands in 2017. The women's team have already qualified in the past in the finals in 2009 and 2013- they're ranked 16th in the world so watch this space!