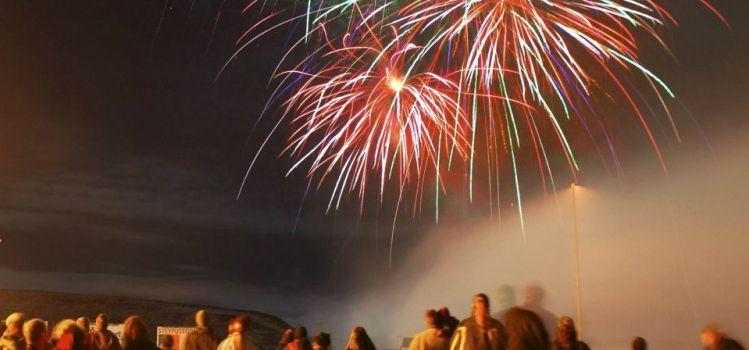 Top things to do this January
The new year brought a fresh layer of snow to Reykjavik- guess we didn't have a "red Christmas" (no snowfall) after all!
Don't let the limited hours of daylight fool you, there are still loads of exciting things to do in Iceland this January. Here are some of our top picks:
Join a Thirteenth Night Bonfire

Tonight (6th Jan) is the Thirteenth Night, or Þrettándinn in Icelandic. This is the official last evening of Christmas, where everybody has to tidy their decorations away and eat up the last of the Christmas food (no more mulled wine and smoked lamb!)- and what better night for a big winter celebration? Icelanders will flock together for large bonfires (a bit like on New Year's Eve- that's why some people call Þrettándinn the Second New Year's) and a great night!
The night's associated with a lot of old folklore surrounding fairies and elves. Whether you believe all of that or not, there's bound to be a public bonfire you can attend. The nearest to downtown Reykjavik is along the coastline tonight by Ægissíða street- the bonfire will be lit at 18:30, with a fireworks display shortly after.
Step into Midwinter
Midwinter officially begins in Iceland on 20th January, the day that the old Icelandic month Þorri would begin. This month is characterised by lots of feasts and special days- most notably Þorrablót, the festival for traditional Icelandic food which is a must for fans of history, culture and some weird weird food. Find out more in our blog about a Brit encountering their first Þorrablót, complete with sampling the infamous hakarl and a shot of Brennivin.
The first day of Þorri is Husbands' Day- guys will be happy to hear this is a special day where your wives will spoil you with gifts and food! (Don't worry ladies- there's a Wife's Day at the end of Þorri too.)
Dancing in the Dark
Iceland's home to music festivals all year round, so why would reduced daylight hours stop us? Dark Music Days is a 3 day festival taking place 26-28th January at Harpa, a perfect location if you're staying in downtown Reykjavik. There's a great mix of contemporary and new music so there's bound to be a little something for everyone in your party. Why not go along to discover a brand new act?
Find some Icelandic Pearls
Another great act at the Harpa concert hall, in case you're after something a little more traditional: Pearls of Icelandic Song is a perfect introduction to some of Iceland's most established and well loved songs. Performed with English introductions and subtitles, each song comes with background information so by the end of the hour you'll feel like an Icelandic history expert. This concert comes recommended from two of our All Iceland travel experts who saw it this winter- the concert is available all year round, but changes depending on the season so you're bound to learn something new if you plan a second outing!
We hope this has given you plenty of ideas for your All Iceland break this January- have fun, try the hakarl and hum along with the bonfire sing-song!
If you're planning your Iceland break and want expert travel advice, why not check out our open day on Monday 9th January where we're offering one-on-one holiday consultation. If you're based in London, we're attending the Telegraph Travel Show and Times Destination Show this month and next- more details here.