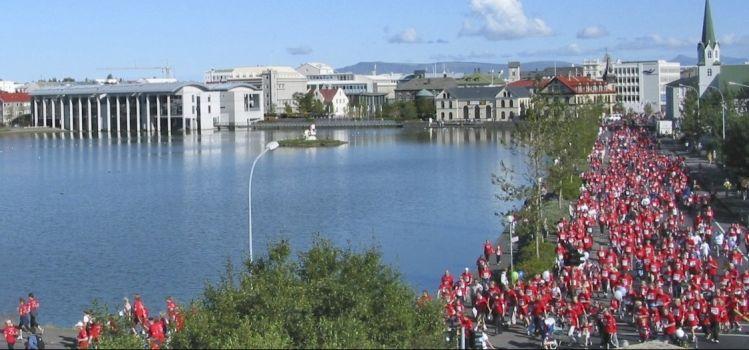 This August in Iceland
If one thing's for sure about Iceland, it's that you'll be hard pushed not to find a festival somewhere in August- from Verslunarmannahelgi last weekend to Culture Night, this month is jam-packed with parades, concerts, and free fish. Challenge yourself or relax with some jazz- here's our pick of the biggest events in Iceland this August:
Reykjavik Pride
It's the 18th Reykjavik Pride festival this year, taking place 2-7 August. It started out as a small pride only attended by fifteen hundred, but since has evolved to six day celebration which is expecting up to 100 thousand guests this year. The opening act is always to paint a street in downtown Reykjavik the colours of the rainbow- and this year it's said newly sworn-in President Johannesson may join Saturday's parade in solidarity.
The Great Fish Day
You read that right- Iceland has an annual fish day. It's a lovely way to bring everybody together over some good food, and can be found in the northern town of Dalvik. The festival starts with a Friendship Chain in front of Dalvik's church at 6pm on Friday 5 August, accompanied by musical acts and a speech from the President. This is followed by the Fish Soup Night, and another day of excellent food offerings from local families and food stations. Fireworks and arctic char make for a great combo!
Reykjavik Marathon
The Reykjavik Marathon is a centrally located sports event that takes you through one of Europe's most charming capital cities, happening on Saturday 20 August. Start at Laekjargata and run past streets with mountains on the horizon, the crisp air of the harbour city on your face. This event comes with a half-marathon and kids' fun run among other distances, so runners of all capabilities can take part. Anyone supporting the runners can enjoy the stalls, music and food on hand, as well as performances from the Icelandic Circus.
Culture Night
It's the 21st year of Reykjavik's Culture Night this month, also taking place on 20 August. The event's slogan is "come on in!", which sums up their inclusive attitude toward performers, audiences and venues, as well as harping back to traditional Icelandic hospitality. All of the events are free to watch, whether it's an intimate recital in somebody's back garden or a grand show in one of the city's squares- no wonder it's expecting 100,000 guests!
Fire and Ice Ultra
This is one of Iceland's toughest courses- and one of the most fun ones, of course! Across 6 days starting on 27 August participants run 250km, encountering such diverse terrain as glaciers and hot springs. Camping out in the beautiful Icelandic highlands, it's a challenge of self-reliance that gives runners a real rush when they finish- as well as a brilliant celebration meal and time to relax in Iceland's rugged countryside.