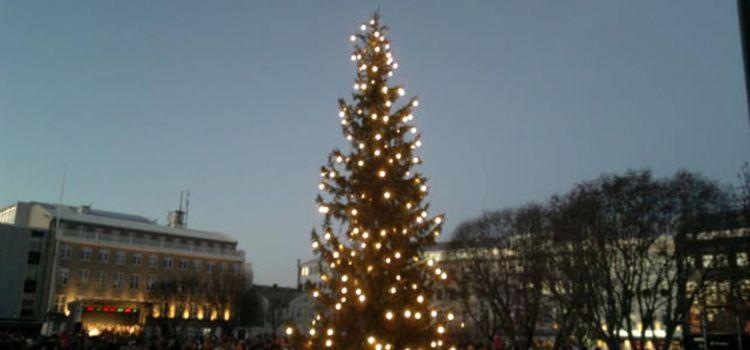 Icelandic Christmas
Gleðileg jól!
We've been sharing lots of Christmas traditions in Iceland, from Jolabokaflod to baking a batch of Laufabraud.
Iceland celebrates Christmas on the 24th, or Aðfangadagur. The celebrations begin even earlier, on 23rd.
The 23rd is St Thorlakur's Mass, otherwise known as Þorláksmessa. St Thorlakur was a bishop in the 12th century, and is now Iceland's patron saint. To celebrate the beginning of the Christmas festivities in Iceland, some people eat skata.
Skata is fermented skate- it doesn't sound appetising and the smell will fill up the entire house, but it's seen by some as a real Icelandic delicacy. (To others, though, it tastes like rotting fish. If you're a bit picky when it comes to food, maybe give this a miss!) According to an MMR survey in 2011, 41.8% of Icelanders had plans that year to eat skate on the 23rd- would you?
Aðfangadagur is a big family celebration. The morning will be taken up by calling round to friends and family. Icelanders also visit graveyards on 23rd or 24th to visit any deceased relatives and decorate their graves with lights, candles and flowers. If you pass an Icelandic graveyard at night you'll see bright lights all over- this way everyone in the family can celebrate Christmas.
From midday shops in Iceland are closed on 24th, as everybody's off to their home or a family home to enjoy a big evening meal. A full spread is laid on, and children are on best behaviour because nobody can open presents until dinner has been eaten and all the dishes washed up- a good method for well-behaved kids! Everybody's dressed in nice new clothes for the occasion. There's an old Icelandic myth that if you don't receive new clothes for Christmas, a troll's cat will come and eat you- better pick up a new tie, then!
With a glass of Malt og Appelsin (or glögg, which is a bit more like mulled wine), everybody exchanges presents and takes it easy- what a lovely peaceful Christmas.
We at All Iceland wish you a Gleðileg jól and a peaceful winter break.