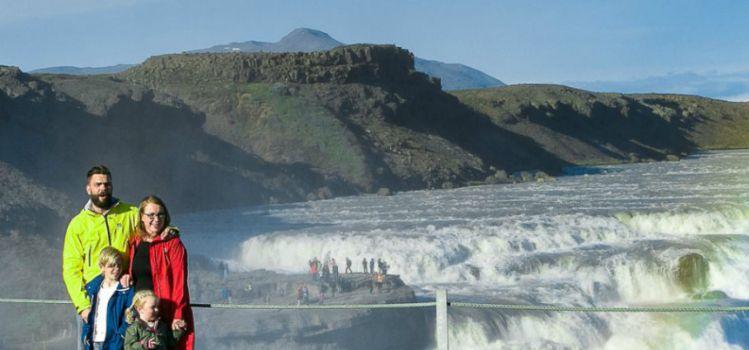 Iceland for Families
Travelling Iceland is great fun with the kids in tow- there's such a wide range of things to do on this little island that whatever age your travelling partners, they'll find something to suit them.
Here are some of our top picks for activities and locations if you have children with you- whether they're adventurous, culture vultures or wildlife lovers, Iceland is sure to be a holiday they'll always remember as one of the best breaks ever!
According to folklore, Iceland is home to Huldufólk or hidden folk, AKA elves and trolls. These trolls can be found in the rocky landscapes, especially caves and large rocks - if you take a self-drive break, try to see how many roads swerve to avoid demolishing or moving elf rocks! Reykjanes' elf caves are a great location for visiting ex-mountain dweller Gianta.
Kids love swimming! Good news: Icelanders love swimming too! If the Blue Lagoon isn't for you, there are plenty of public swimming baths in the towns around Iceland as well as some geothermally heated outdoor pools. Here's Guide to Iceland's pick of the best swimming pools- though make sure you wash properly before and after swimming, Icelanders are very particular about hygiene!
There are several tour companies which take passengers out from Reykjavik or Husavik to see whales- don those overalls! The guides are well trained conservationalists and there's no guarantee of seeing whales but with so many porpoises and the opportunity to add on a puffin tour, you're sure to see some adorable wildlife. The boats have lower decks where you can warm up with a hot chocolate after your noses turn pink.
Walk in the Vikings' footsteps
What better way to learn about the Vikings for school than by visiting an actual Viking settlement? There are plenty around Iceland from old ruins to reconstructed farms- your kids will love the authentic environment whilst learning about the era. There's also the Saga museum in Reykjavik with plenty of stories about legendary Icelandic settlers of old.
If you're travelling at New Year, your kids will love the fireworks on show on 31st December. Each town in Iceland is bound to have a large bonfire with food, music and a fantastic fireworks display to make them go "wow!".
Try popular Icelandic food (hotdogs)
It's not a holiday abroad without trying some local cuisine and you'll be spoiled for choice with Iceland's delicious lamb and freshly cooked fish. You won't find a McDonald's in sight in Iceland but if your little ones want a fast food treat, we definitely recommend an Icelandic hotdog. The hotdogs, or pylsur, are best with lots of sauce and onions- mmm!
Here at All Iceland we're more than happy to tailor breaks to suit you- let us know where you and your family most want to go and we'll set about planning your dream break!