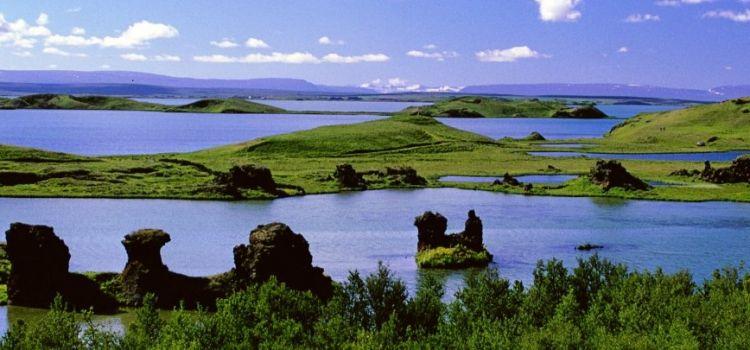 Have You Visited...North Iceland?
You might have visited Iceland before, but many travellers in Iceland tend to stay in Reykjavik for their whole stay. Contrary to some misconceptions, the north of Iceland is just as accessible and equally beautiful- plus it's home to some gems of Icelandic nature hidden away from the tourist hotspots!
Here are some of the best ways to enjoy North Iceland:
Visit the Capital of the North
Akureyri is Iceland's second largest town, located on the shores of Eyjafjordur. Named "the Capital of the North" it's an equally charming alternative to a city break in Reykjavik. There's a good selection of restaurants and bars and its Botanical Garden is home to beautiful walking paths, so what are you waiting for?
Your perfect break: check out our Akureyri North Iceland Break, which offers 2 nights in Akureyri as well as 2 in Reykjavik.
Make the most of the Nature
Husavik is one of the best places for whale watching in Europe, so a must-see location for any nature and wildlife fans. Departure is from Skjalfandi bay which is an excellent spot to see dolphins and sea-birds as well as whales- plus there's some shelter by the mountains of Vik, can you imagine a better panoramic view? No, we can't either!
Perfect break for you: make sure cameras are fully charged on our Husavik Whale Watching Break.
Discover hidden gems
Self-drive breaks offer the freedom to spend as much or as little time as you like travelling through beautiful landscapes to reach the next of Iceland's wonders. From Skagafjordur's valley of horses to Europe's most impressive waterfall Dettifoss, there are plenty of sights and fantastic landmarks which you'll love to discover. Our Icelandic experts can tailor your itinerary to suit where you want to travel- as well as directing you to some of the gems of the North you might not know about...
Perfect break for you: hit the road with Wonders of North Iceland
See the Northern Lights in a new Location
If seeing the Northern Lights is at the very top of your priorities list, a trip to north Iceland could be the perfect break for you. Travel with an expert guide who will know the best locations for spotting the Aurora each day- and with a tour for 7 nights your chances of seeing the lights will only increase! This tour also includes a trip to the Myvatn Nature Baths- it's like visiting the Blue Lagoon but quieter, and an equally brilliant place to watch for the Lights.
Perfect break for you: fingers crossed for a great display with Northern Lights in the North
Take Everything In
When you go on holiday, do you have to see everything there is to see? This tour uses accommodation in Akureyri and Reykjavik, which means less time is used on packing and moving when you're so well located for exploring! This break includes time in the west and Hrisey island as well, so it's a fantastic way to pack in loads of sights without feeling too rushed.
Perfect break for you: don't miss a beat with our Best of North Iceland guided tour package
These are just a few of our travel packages on offer- why not check out the whole range of city breaks, self-drive packages and guided tours?