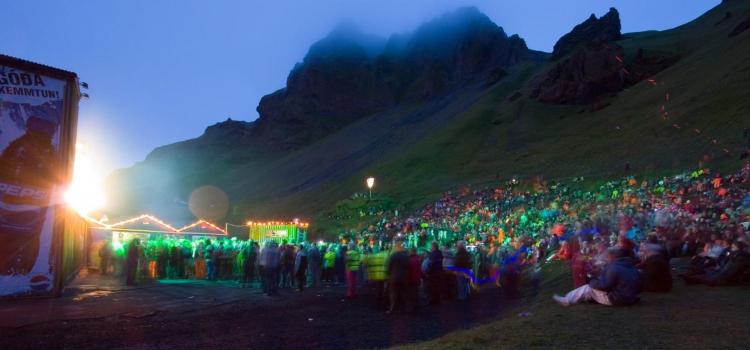 Celebrate Verslunarmannahelgi: Westman Islands
The first weekend of August marks one of the biggest nation-wide events in Iceland: the annual shopkeeper's holiday, or Verslunarmannahelgi. It's a weekend long celebration with parties and festivals in every town in the country! To celebrate, we at All Iceland are here to tell you about the biggest and most atmospheric events across the weekend!
One of the biggest and most wellknown events in the Verslunarmannahelgi calendar is Þjóðhátíð, a weekend of camping in the Westman Islands. It originated back in 1874, for local islanders to have their own shopkeeper's holiday celebrations instead of traveling to the mainland, and has since become so popular that now 16,000 people visit this little island, where normally the population is only 4000!
All vehicles are banned from the festival site, meaning visitors grab a ferry across and camp out among the mountains for the weekend. The ceremonies officially start on Friday evening with a huge bonfire, and a magnificent firework display follows on the Saturday.
The pièce de résistance of Þjóðhátíð is the Sunday sing-along event, where Westman Islands celebrity Arni Johnsen leads a set of Icelandic folk music. An official song is commissioned each year, making this event quite a national highlight of music! Down in the valleys the atmosphere is one of complete union, which rises until the mountains are lit up with red torches to signify the island's volcanoes. Sounds amazing!