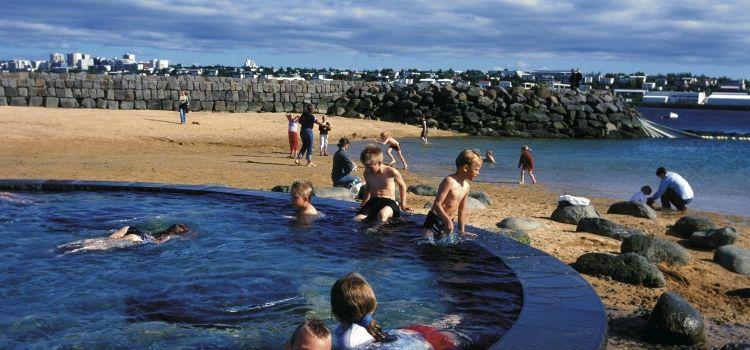 A Weekend of Festivals
8% of the Icelandic population may be in France this weekend, but that doesn't mean the rest aren't having plenty of celebrations back home!
There's loads going on this weekend in Iceland- least of all because of Iceland's national day tomorrow (hi ho yippee yay!). Here are some awesome festivals we've spotted which are starting today and going on until Sunday- roll on a long Icelandic weekend!
Secret Solstice
Now in its third year, Secret Solstice is a music festival like no other. Where else could you attend a concert inside a glacier- or for the first time ever, in a volcano? With headliner acts like Radiohead and Die Antwoord as well as Icelandic superstars Of Monsters and Men and Glowie, it is *the* place to be for the best in established and undiscovered talent. All this and 24 hour daylight thanks to this weekend falling on summer solstice- are you excited yet?
Where? Various locations, main base in Reykjavik


Viking Festival
For an enthusiastic and authentic weekend living among the Vikings, you will be in your element at Iceland's 21st Viking Festival. Based around a typical Viking market day, stalls are opened from 13:00 to 20:00 where you can sample the best in handcraft, storytelling, food and games from Iceland's Viking ancestors. It's not all peaceful though- watch out for battle re-enactments and rowdy feasts!
Where? Hafnarfjordur- only a few kilometres south of Reykjavik
Reykjavik Midsummer Music
If rock, grunge and Vikings aren't really your cup of tea, why not head to the magnificent Harpa concert hall for a showcase of Reykjavik's award-winning chamber music festival? Pianist Vikingur Olafsson first founded Midsummer Music in 2012 and since it has become a fantastic gathering place for some of the best musicians in the world. Bringing together compositions from the 17th to the 21st century, it's a perfect place to unwind under the Arctic sun.
Where? Reykjavik, Harpa concert hall
Planning for summer solstice 2017 already? Looking at these festivals, we don't blame you! Email or call our office on 01904 406534 to start planning your perfect break.